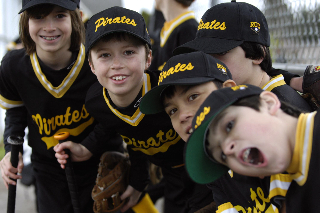 It might not seem like baseball season yet, but it's never too early to start preparing to play ball.
RUG Little League, whose home fields are at Maple Leaf Park, is in the midst of registering players for the 2012 season.
Kids 6-12 play at our park, including:
T ball for 5- and 6-year-olds
Coach Pitch for 7 and 8 year olds
Minors, where players start pitching for their teams at ages 9 and 10 
Majors, for ages 11 and 12, which cumulates in the most publicized Little League event, the Little League World Series
RUG also provides league play on full-sized diamonds throughout the city for Juniors aged 13-14, Seniors aged 15-16 and Big League for ages-18. Softball is provided in combination with the surrounding Little Leagues, from Minors aged 9-10, through Juniors aged 13-14.
RUG Little League is a non-profit all-volunteer organization, part of Little League District 8 in Washington and Little League National (see the boundary map).
Your kids also can now register for the Northeast Seattle Little League, which serves families who live in the area bounded by the Ship Canal, Northeast 110th Street, Lake Washington and 25th Avenue Northeast/Lake City Way.
Kids aged 5-7 play tee ball and kids aged 7-8 play farm league (either coach-pitch baseball or machine-pitch softball). Older age groups play in kid-pitch leagues. Registration deadlines for the Northeast Seattle league are Jan. 22 for baseball and Feb. 12 for softball.