Update 12:50 p.m.: City Light now reports over 18,000 customers without power. Including 4,500 in Maple Leaf's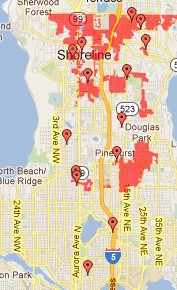 northeast corner, stretching into Pinehurst. We've updated the map at right, too.
—————————————————————————-
On this Christmas Day, the official Seattle City Light map of known power outages doesn't show Maple Leaf – but it's lying.
We know power is out at 15th Avenue Northeast and Northeast 103rd Avenue. City Light says it has about 7,000 customers out.
Anybody else having trouble cooking the Christmas goose?
KOMO is reporting wind speeds:
Peak wind gusts as of noon: W.Seattle 60, Bellingham 56, Everett 56, Oak Harbor 54, Seattle (Sea-Tac) 53, Gig Harbor 51.