Maple Leaf might not be as hip and cool as Seattle neighborhoods like Ballard and Capitol Hill, but hip and cool still take up plenty of real estate in our north-of-the-Ship-Canal neighborhood.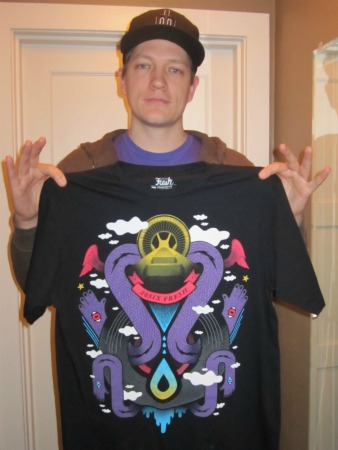 Case in point, 20Six FRESH, a streetwear company run out of the Maple Leaf home of Billy Thompson that just launched this month.
"I've always been a fan of rare and unique designs," says Thompson, a corporate graphic designer by day who has been designing T-shirts for other companies in his spare time for about eight years.
As streetwear design has expanded its appeal from the realms of skateboarding and hip-hop culture more into the mainstream, Thompson decided it was time to make a go of it on his own. With a focus on "Seattle-inspired designs, stuff I like," Thompson planted the seed for 20Six FRESH earlier this year, and has since enlisted the help of his brother, Danny Thompson, who's taking care of the website and marketing, including keeping the Facebook and Twitter feeds fresh.
We got a behind-the-scenes tour of the where the action takes place, right around the corner from Cafe Javasti, and you can be sure you'll be getting much more than just a T-shirt when you order from 20Six FRESH.
"It's not just about getting the package," Thompson explains. "It's more of the experience of getting it."
He packs personality into every package, including freebies and other treats that I'm not allowed to share.
As for the designs themselves, the stickers and men's and women's tees now for sale include a colorful Seattle skyline, the Space Needle and the Fremont Troll, with Thompson planing to eventually add hoodies and children's clothing among other designs.
Readers of this blog can get a special 20 percent-off discount by using the coupon code MAPLELEAFLIFE26. And if you want that T-shirt before Christmas, Thompson says delivery to Maple Leaf or Green Lake by Christmas is guaranteed if you order by noon on Saturday, Christmas Eve.