We've just gotten word that the Dec. 10 tour of the Maple Leaf Reservoir will not be expanded beyond the original 100 participants as previously was expected (or perhaps it was just hoped!). The city found that liability and security issues associated with greatly expanding the tour made it unfeasible.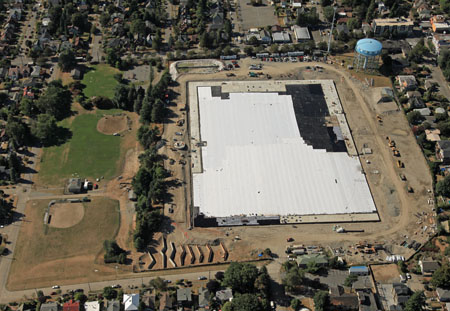 Because we received hundreds of emails from hopeful reservoir tourists, we've only notified the first 100 people who emailed us. Which means, if you didn't get an email from us, we regret to inform you that you didn't make the cut.
We also regret to inform all of you who tried to RSVP via Facebook that you also did not make the cut. The blog post specifically said that people were to RSVP via email, however, one reader pointed out that the Facebook post was a bit misleading. It stated:
On Dec. 10 we'll be able to take the first 100 folks who respond underneath the new covered reservoir before it's flooded.
Unfortunately, it appears that many of our Facebook readers took the "underneath" phrasing to mean that they should "respond underneath," rather than that the tour would take them "underneath the new covered reservoir," and we sincerely apologize for that confusion.
For those of you who can't physically make the tour, we hope to be your eyes and ears underneath the reservoir. Check back Dec. 10 for as up-close-and-personal of a view underneath the reservoir as possible via a blog site, and thanks for all of your support!