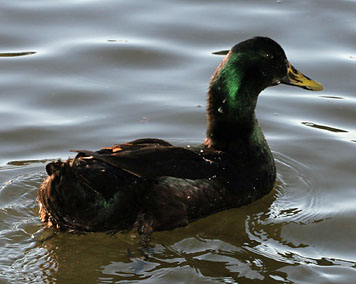 Janice sent us this photo earlier this morning, along with this note:
"This morning I found a guest in our backyard, a very pretty Cayuga Duck. I thought at first that it was a sick or injured wild duck…it let me walk right up and pick it up with a towel..but after a little Google work and a call to PAWS I am pretty sure it is a healthy domestic duck.
"For the moment it is sleeping on a towel in our bathtub but I am going to return it to our fenced yard in a few minutes. If there is any way that you can post a notice on the neighborhhod blog so that this duck can return home that would be great. For a point of reference we live on Northeast 95th Street just off of 15th Avenue Northeast.
"Thanks!"