The 15-year-old burglary suspect arrested here Wednesday after a witness chased him down is also a suspect in a robbery, and could be linked to numerous local burglaries, Seattle Police said this afternoon.
"You've had quite a flurry of residential burglaries down there," said Terrie Johnson, police crime prevention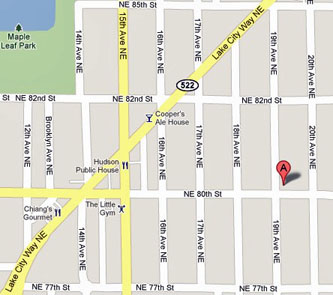 coordinator for the North Precinct. "Many of them involve people coming around the back of a house, looting portable electronic equipment from the home. Juveniles are often seen."
Officers hope they made a dent in the problem with the arrest shorty before noon Wednesday of a 15-year-old who had already been tackled by a neighbor. "Detectives will be trying to link up and charge the suspect with other crimes, residential burglaries being one of them," Johnson said.
According to the police report, the suspect is a student at South Lake High School on Rainier Avenue South, which our news partners at The Seattle Times described as "the city's only alternative-high school for at-risk teens." The report states he is also wanted for investigation of a robbery, which Johnson said occurred in south Seattle.
According to the police report, a neighbor in the 1900 block of Northeast 80th Street heard the sound of glass breaking , "looked out his window and observed a black male looking through the open rear kitchen window of his neighbor's residence."
The window was broken and the suspect was standing on a bench he had pushed under the window, the report states. When the suspect saw the neighbor, he ran westbound on Northeast 80th, chased by the neighbor, according to the report. The neighbor won at Northeast 80th and 16th Avenue Northeast, it states. Police arrived and made an arrest.
The report also says a black female was seen standing at the bus stop at Northeast 80 and 19th Avenue Northeast, and a witness said she seemed to be a lookout. She goes to the same high school as the suspect, the report states, adding that she was handcuffed at the scene, but then released.
Details from neighbors who observed the arrest are in our earlier post.
Johnson said nearby home burglaries during the month of October occurred:
On Northeast 80th in the 300, 1800, 1900 and 2000 blocks.
On 17th Avenue Northeast in the 7700 block.
On 15th Avenue Northeast in the 7700 block.
On 18th Avenue Northeast in the 7700 block.
On 20th Avenue Northeast in the 7000 block.
On 24th Avenue Northeast in the 7300 block.
On Fifth Avenue Northeast in the 8300 block.
On Ravenna Avenue Northeast in the 8500 block.
The police report on Wednesday's burglary arrest also mentions a second burglary that occurred an hour earlier and approximately five blocks to the south.
"That arrest was the result of watchful (neighborhood) eyes and great 911 calls," Johnson said.