It's back!
The neighborhood has rescued the annual Maple Leaf Parade of Costumes, which in our last post had lost its organizers and seemed in danger of extinction.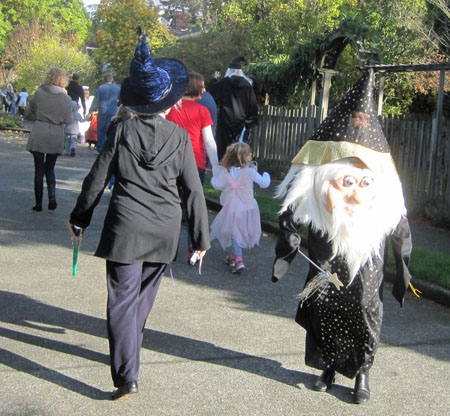 It didn't help that Halloween falls on Monday this year – last year it was on a sunny Sunday and some 200 people turned out for the parade.
But by this afternoon you should be seeing a poster at coffee shops and businesses around town.
"Big Kids, Little Kids, Furry Ones too – show off your costume while parading the Maple Leaf neighborhood with instruments, noisemakers, and freaky sounds. Just like last year, we will be accepting non-perishable food items for local food banks."
Since many kids (and their parents) will be elsewhere on Halloween Monday, the parade is set for Sunday, Oct. 30, from 2-4 p.m. Details:
Starting at the parking lot behind the Roosevelt Alehouse, winding thru and trick-or-treating at local businesses along the way and ending at Perkins School where Peaks Frozen Custard and other goodies will be served. Join us for the whole route or part of the route (entire route is about 1-1/4 miles and will hopefully take about an hour to walk, including the trick-or-treating).

If you live along the route and want to hand out treats, we ask that you bring your goodie bowl out to the sidewalk so the trick-or-treating can keep moving along the parade route. We really aren't sure of how many participants we will have, but are asking people to plan on 100.
Thanks to the folks, below, who pulled this together.