Seattle Creative Kids Preschool in Maple Leaf had visitors this morning.
The lights and siren weren't flashing and blaring, but the crew of Engine 40 were friendly and the preschoolers were welcoming.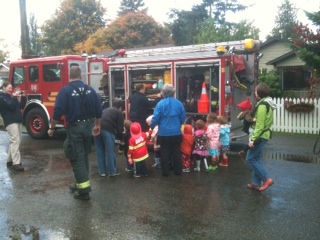 From the school, located at 9221 12th Ave. N.E.: "Firefighters talked to students about fire safety and let those who were so inclined sit in the drivers seat of the fire engine.
"The children gave the fire fighters homemade cookies and cards as a thank you for making the trip over from the fire station."
Thanks to the school for the photos!