Seattle Police say a quick response to a 911 call of a burglary in progress this morning led to the arrest of two men fleeing the scene in a silver Jaguar.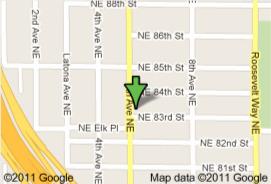 The call came at 5 a.m. from the 8300 block of Fifth Avenue Northeast, police say.
Officers quickly located and stopped the suspect vehicle. Both adult male suspects were removed from the vehicle and detained without incident. The complainant/witness was brought to the stop location and positively identified the suspects. The suspect vehicle appeared to contain stolen property.
The most common crimes here are breaking into or stealing cars. There was a rash of home burglaries last winter, but they had slacked off last time we looked in early August.
Here's a look at home burglaries since, according to police reports.
Monday, Oct. 3: 1500 block of Northeast 95th Street. Rear basement french doors shattered, televisions, computers, computer games, cash, credit cards and jewelry stolen.
Sept. 21, 10300 block of 23rd Avenue Northeast. Entry through open bathroom window, laptop, DVDs and heavy safe stolen.
Sept. 20, 1500 block of Northeast 106th Street. Sliding glass door opened, bedroom ransacked, computer missing.
Sept. 18, 800 block of Northeast 100th Street. Teenager was seen pushing portable air conditioner partition in, fled.
Sept. 4, 9800 block of Eighth Avenue Northeast. Back door forced, unclear if anything stolen.
Sept. 3, 500 block of Northeast 90th Street. Rear glass door shattered with a rock, "victim stated the subject entered the residence and took a shower in the bathroom."
Aug. 31, 1700 block of Northeast 104th Street. Suspect climbed on garbage container and removed the screen from an open window. Nothing appeared stolen.
Aug. 31, 1200 block of Northeast 105th Place. Basement window shattered, jewelry and computers stolen.
Aug. 30, 300 block of Northeast Thornton Place. Jewelry missing from apartment.
Aug. 29, 1000 block of Northeast 91st Street. Trash can placed upside down under window and screen removed, portable safe with handgun inside and jewelry stolen.
Aug. 26, 7800 block of Roosevelt Way Northeast. Rear door kicked in, unknown what was stolen.
Aug. 23, 10200 block of 23rd Avenue Northeast. Front door apparently pried open, suspect fled before entering home.
Aug. 22, 800 block of Northeast 105th Street. Open window, computers and other electronics stolen.
Aug. 21, 7200 block of Roosevelt Way Northeast. Entry made through unlocked door.
Aug. 16, 500 block of Northeast 104th Street. All upstairs rooms ransacked, jewelry, electronics and loose change stolen. Previous burglary at this location earlier in the year.