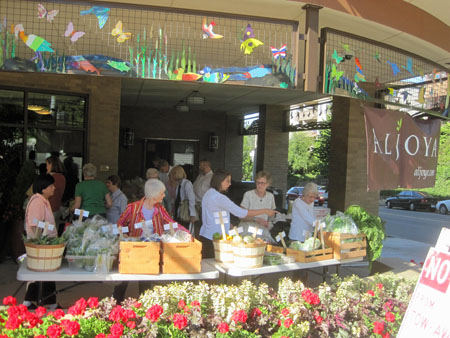 The last outdoor market of the season is from 4-6 this afternoon at Aljoya Thornton Place.
Last month's market, pictured above, appeared quite successful, with fresh, inexpensive produce and cooked goods.
Aljoya is catering to both residents of the senior living facility there and commuters from next-door Northgate Transit Center.  It is located at 450 N.E. 100th St., outside the Bistro patio at Fifth Avenue Northeast and Northeast 100th Street.
From Aljoya:
"We are hosting the final Outdoor Market of the season for Aljoya Residents & the Northgate and Maple leaf communities. Items available include: Homemade Baked Goods, Fruits & Vegetables. Don't miss your LAST CHANCE of the year to pick up some of the very finest produce and baked good available. Do your shopping at Aljoya this week. Please bring cash or a credit/debit card to pay for your fresh goods."