Twice in the last dozen years we had our cars broken into while parked outside our house. (Another time we had the entire car stolen.)
This week makes the third time we've had a car prowled. The first two times they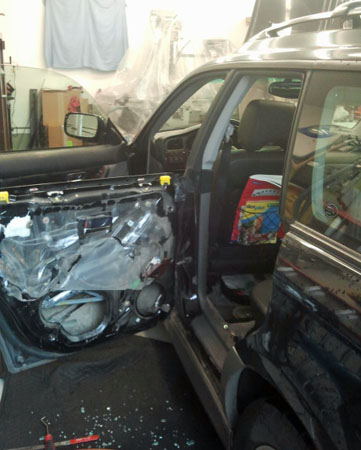 just jimmied the locks. This time the car had an alarm – so they busted both rear windows. We found it just as Monday's rainstorm started.
Getting this fixed took the rest of the day – plus $373.76.
We had neighbors report several different types of incidents over the weekend.
Dawn wrote:
We wanted to alert the neighborhood that there are some adolescent pranksters making doorbell ditch attempts and if that fails, they will pound aggressively on the door. We experienced this last night (Saturday). Three adolescent girls and one adolescent boy rang the doorbell and when we didn't respond they pounded aggressively on our front door ( next to our sleeping baby's room) then ran down to the next house and hid behind parked cars and in driveways to watch.
That same evening Elizabeth emailed: "There were two cars speeding down 97th to Roosevelt, turned on Roosevelt and sped back down 98th heading down toward Lake City. I saw one of the license plates since they just about hit me as I was walking. Any idea how to report this type of thing? The cars were full of young people…."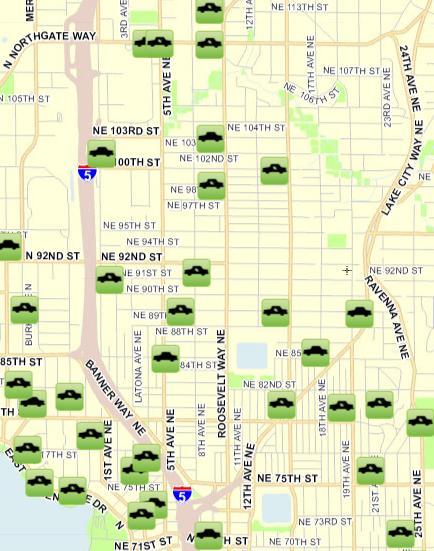 (The answer to that, according to Terrie Johnson at the Seattle Police Department, is "call 911 immediately.")
But the most common crimes appear to be against cars. Either prowling them or stealing them.
The map shows prowled and stolen cars in Maple Leaf for the first four weeks  of September. It shows more than 20 reports, including three on my street (not yet including mine).
That's approaching a car a day, right here in our neighborhood. For some of July, it was more than a car a day. (Some of the icons, especially up around Northgate, stand for three or even five reports.)
They are so common that unless you have more than $1,500 in damage and loss, the police department wants you to report them online, but says it likely won't do more than keep statistics on hot spots. From the Community Online Reporting Program website:
Filing a CORP report online is the easiest way to get a free report to submit to your insurance agency. When you file a report with CORP, it will be reviewed. Unfortunately these types of crimes usually have limited solvability so most cases will not be investigated.
I will say the online form has its moments. The menu of items that might have been taken from the car includes : "Cape? Casket or funeral urn? Handcuffs? Bullet-proof vest? House-arrest bracelet?"