Photos are from Jessica's (and Hope's) website.
Hope, in this case, was a Golden Retriever.
She spent seven years working daily, side-by-side, with Jessica Thompson, until Hope's deat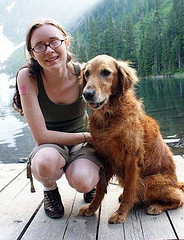 h from cancer last year .
She became my partner, helper, best friend and constant companion. Hope was trained to assist with my neurological disability. She became my partner, fluidly as a team; she led–I followed. I asked–she responded. She became an extension of me, an intricate part of my ability to function.
Hope and Jessica were also regulars at Cloud City Coffee, 8810 Roosevelt Way N.E., and that's where an exhibit of prints of Hope by Jessica, an artist,  is currently hanging.
Jessica is selling the prints – you can pick one up at Cloud City in return for a donation, or go to her online store. They're not expensive; the suggested donation is $25.
Hope, in this case, is also to raise the money to replace Hope with a new service dog in Jessica's life. You can read more about it at her website.