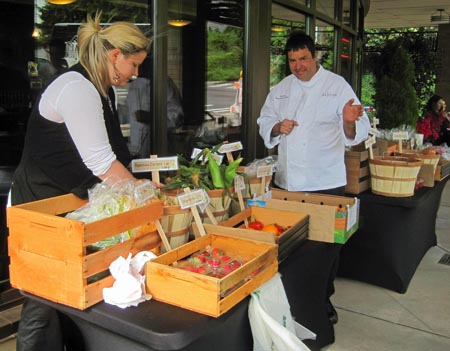 The Outdoor Market at Aljoya Thornton Place reopens this afternoon with a new name – and food tasting!
Last month it was the Farmers Market. After readers commented that it wasn't, technically, a Farmers Market  Ajoya, 450 N.E. 100th St., decided to change it.
Dear Readers, the event is primarily an opportunity for the residents and staff of Aljoya to do some convenient shopping and enjoy the local produce we have procured. Although not technically a "Farmers Market," (a new name is in the works!) we look for opportunities to open our doors to the local community to benefit from events like this.
That first market had 71 customers, Aljoya reports. They plan to open the market on the last Thursday of every month.
Bring cash or credit card to pay for your fresh goods. The market will be held from 4-6 p.m. outside the Bistro patio at Fifth Avenue Northeast and Northeast 100th Street.