Update June 29: A reader writes: "I wanted to add to your post from yesterday, our house was burglarized yesterday, June 28th. We are on the 500 block of Northeast 104th Street. A basement window was pryed open as the form of entry.
"Thanks for reporting these, hopefully it encourages neighbors to keep a watchful eye out."
————————————————————————–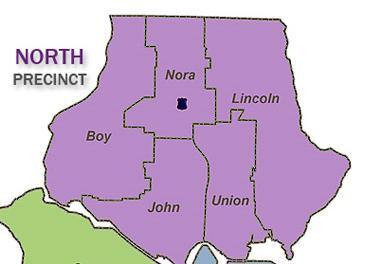 During the month of June approximately 85 home burglaries were reported in Seattle north of the ship canal, police announced today.
Of those, it appears only four occurred in Maple Leaf.
Burglars forced their way into a home in the 10700 block of 14th Avenue Northeast on Friday, June 24.
Between June 21 and June 24 burglars smashed in the rear basement door of a home in the 1200 block of Northeast 107th Street. The house was ransacked and, according to the police report, a neighbor saw a known burglar in the area.
A home was burglarized on Sunday evening, June 12, in the 800 block of Northeast 106th Street. (We previously reported this one.)
Drugs were taken on June 2 from a home in the 800 block of Northeast 82nd Street. It doesn't look like burglars had to force their way in there.
That's common, said Terrie Johnston, police crime prevention coordinator for the North Precinct, who made today's announcement. Of the 85 residential burglaries:
Forty-five of the burglaries were non-forced entry, which means that the thief was able to enter the home either through an open or unlocked door or window, or had a key.  As burglaries tend to increase during warm summer months, I wanted to send out this quick reminder.

Let's take away some lessons which come from June's burglaries:  Opened windows on the upper floors may be just the opportunity the would-be thief is seeking.   Crooks used plastic lawn chairs, patio furniture, ice chest, garden pots and in one case a ladder to climb up onto the 2nd floor and came in through open windows.

Pet doors were the method of entry in several of the burglaries, so be aware.   Back doors were popular this month, so reconsider how easy it is for your watchful neighbors to see onto your back yards.  The victims' tools which were left out were used to pry open a rear basement door, and again on the door leading into the upstairs.  Decorative rocks and bricks were thrown through back windows in a few of these crimes