If you're not already a frequent visitor to Maple Leaf's Dog Oasis, you've undoubtedly read in our pages about the corner stop at 12th Avenue Northeast and Northeast 89th Street that offers water and doggie snacks for our four-legged friends.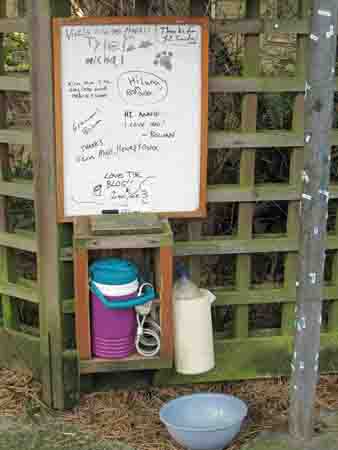 Because one of the co-editors of our site also is the "co-keeper" of the Dog Oasis, we've likely failed to give it its deserved recognition in the effort of retaining editorial balance. But those days are over, and the battle of the Doggie Oases is on after we noticed a rival Doggie Oasis in Green Lake from Columbia Real Estate Group, 321 N.E. 72nd St.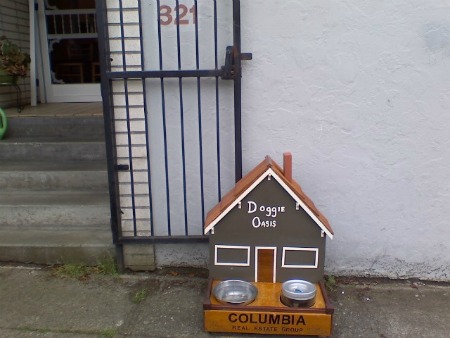 Coincidence, or just the spread of a good idea?
Co-editor Mike tells us:
The current Maple Leaf Dog Oasis was started after our last Lab, Battle, died. We put his dog bowl — a big stoneware crock —  and a treat jar out in his memory, and the D.O. (as it's called) grew from there. Somebody stole the crock, and raccoons repeatedly made off with the treat jar, but neighbors donated replacements and the treats are now on a leash.

It's not the first Maple Leaf Dog Oasis, though. That one, which Battle often visited and also had both water and treats, was on Northeast 86th Street, just a few houses west of Roosevelt Way Northeast.