Maple Leaf's newest restaurant, COA Mexican Eatery & Tequileria (7919 Roosevelt Way N.E.), had a slower start than it'd hoped for because of a delayed liquor license. But if you were worried that would put a stop to the Tacos for Life party, never fear!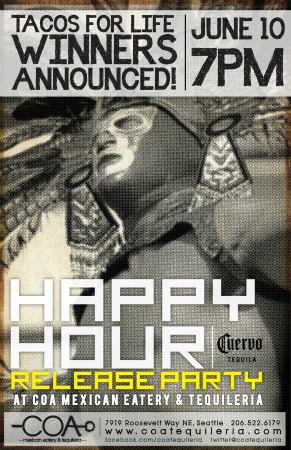 With liquor license now in hand, COA plans to announce tonight on its Facebook page that its Happy Hour Release Party will begin at 7 p.m. Friday, June 10. And if you were one of the 700-plus Facebook users who "liked" COA, or if you're one of the nearly 300 Twitter followers @coatequileria, you have a shot at being announced a winner of the restaurant's Tacos for Life campaign.
And yes, it means exactly what it looks like. From that earlier post:
The two winners will have a daily opportunity, during restaurant hours, to savor as many Carne Asada and Carnitas tacos their heart desires, for FREE.
But hey, even if you didn't enter to win tacos for life, there's always happy hour!