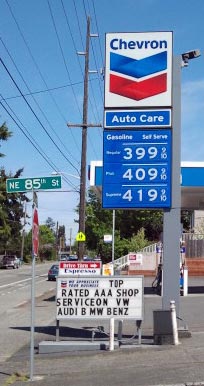 Here's some (relatively) good transportation news: Gas in the neighborhood dropped below $4 a gallon. For regular. For now.
Nationally, the Associated Press is reporting that gasoline prices are dropping across the country, for a national average around $3.93 a gallon. Here, KOMO-TV quotes AAA this week as saying Seattle-Everett prices hover right at $4 a gallon.
That's still roughly a dollar a gallon higher than a year ago, though.
You can find local gas prices through AAA's tool here.
What's the cheapest you've paid for gas this week? (Tip: The Shoreline Costco's price for a gallon of regular this morning was $3.899.)