If you haven't put your feet first yet, Chas Redmond certainly hopes you do soon, and that you take one of the Feet First maps with your on your excursion around the city.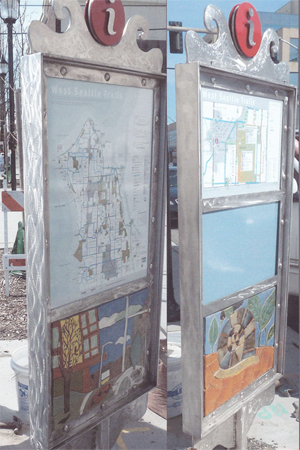 Redmond, a Feet First board of directors member, passed around pedestrian-friendly maps of Northeast Seattle at last month's Maple Leaf General Community Meeting, reminding Maple Leaf residents of the myraid gems that are hidden right in our backyards (see our own post "Scenes from the 'urban trail' to Matthews Beach").
The maps do more than connect walkers from one place to the next through scenic neighborhoods and urban trails. They also offer suggested walks, including "The Maple Leaf Playground Loop," which circles Maple Leaf Park and the reservoir, as well as "Two Reservoir Walk," which takes pedestrian from that loop down to Froula Playground and Roosevelt Reservoir.
If you don't have a map, they're usually available at community centers and Seattle Public Libraries, and Redmond urges people to please let him know at info@feetfirst.org if they find any discrepancies between what has been printed in the map and what is actually reality. Although it might take some time for the change to be made in the printed maps, he said they will be made quickly on the electronic version.
By the way, what do you think about these "wayfinding stations"? The one pictured above is a Feet First map made into art located in West Seattle, and Feet First is hoping to bring them to Northeast Seattle as well. Let them know if you like the idea (they would be funded by grants) and where you think they would best serve pedestrians in Northeast Seattle.