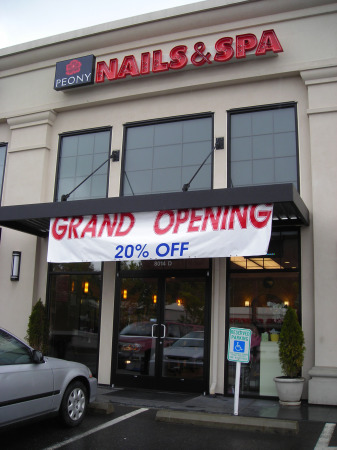 Can you believe it's been a year since Peony Nails & Spa opened its doors as the first of many new businesses in The Village at Maple Leaf, 8014 Lake City Way N.E.?
Since then, iBurger & Shake and Little Caesars both opened, and let's not forget the neighboring Last Drop Bottle Shop, 8016 15th Ave. N.E.
So during the first two weeks of May, when you stop by Peony for discounted services, there will be plenty more to do in the vicinity.
Yep, you read that correctly, discounted services. To celebrate its one-year anniversary, Peony has announced on its Facebook page that it's offering 20 percent off all of its services starting tomorrow, April 30, through May 8 (which is Mother's Day if you still haven't thought of the perfect present for Mom!); followed by 20 percent off all gift certificate purchases from May 9-16.
Maybe this will become a neighborhood trend!