Even though the Maple Leaf Reservoir is slated to be completely covered by mid-2012, Donna Hartmann-Miller, who heads the Friends for a Greater Maple Leaf Park committee, told more than 50 people at last night's Maple Leaf General Community Meeting that the park that will be built on top of the reservoir likely won't be ready to use until sometime in 2013.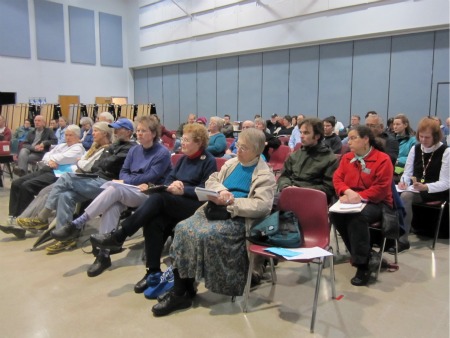 And although that adds one more year of waiting to use the space adjacent to the current Maple Leaf Playground at 1020 N.E. 82nd St., that also gives the park committee another year to raise funds, which was one of the overarching topics of the Wednesday meeting at Olympic View Elementary, 1020 N.E. 82nd St. (Whose plant sale is this weekend, by the way! Post to follow.)
Although a $5 million levy is expected to cover the cost to put the lid on the reservoir and pay for much of the design for Maple Leaf Reservoir Park, the committee is raising money to pay for a few unfunded details, including a picnic shelter in the Family Terrace, which will be located at the site of the current Maple Leaf Playground; completion of a walkway around the perimeter of the park; trees; and furnishings.
Hartmann-Miller noted that there will be many ways to help out as fundraising gets under way, including donating either your money or time, and shopping locally after she gets more community businesses on board with a plan to donate a portion of their proceeds to the park (stay tuned for details in the coming months).
Your participation also is in need with such issues as the Family Terrace, for which community resident Scott Bishop is pursuing a $100,000 Neighborhood Matching Fund.
"We've raised $75,000 so far from community members, and 200 volunteer hours," Bishop said. "That combination puts us over the $100,000 community match. If we are the recipient ultimately … we'll be able to make that Family Terrace come to life."
Bishop is looking for ideas from the community to both upgrade the current Maple Leaf Playground and to include more options for children's play, and is inviting those with ideas to attend a Family Terrace Design Meeting from 6-8 p.m. June 1, also at Olympic View Elementary.
"There is more than one way to play," Bishop said. "This is an opportunity to expand this area for other ways to play."
Possibilities include climbing boulders; tunnels and bridges; natural landscaping that encourages interaction; a hill slide; balance steppers and beams; and a children's garden that could follow the overall park's theme of paths, while including ideas such as eco-regions gardens, a butterfly and bird garden, dry stream beds or an outdoor learning area and gathering place.
If you have ideas to share about the Family Terrace but are unable to attend the design meeting, Hartmann-Miller encourages you to get in touch with her at donna.hartmann-miller@mapleleafcommunity.org.
Which brings us to the next order of business at the meeting: Hartmann-Miller, Tyler Letey and Matt Stockbridge now are official members of the Maple Leaf Community Council Executive Board after community members at the meeting unanimously voted them in. (The other members of the board, including President Joshua Newman, were voted in at last year's April General Community Meeting.)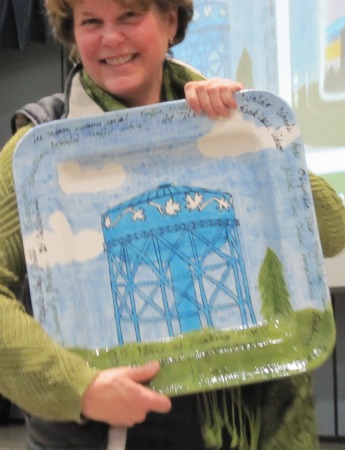 However, the board is still recruiting new members, and is in need of a vice president and a treasurer after the resignation of Treasurer Janice Camp, shown at right, who was awarded a hand-painted plate featuring the Maple Leaf water tower for her 20 years of service on the Maple Leaf Community Council Executive Board.
The Community Council also is asking Maple Leaf residents what they would like to know about candidates for the Seattle City Council. Although the Maple Leaf council regularly holds an election forum in the fall featuring Seattle City Council and other local candidates, it's hoping to help voters get to know where the candidates stand on issues particular to Maple Leaf by asking them to fill out a questionnaire by July Fourth.
And it needs your help with the questions. As examples, executive board member David Miller posed the following:
Do you support building sidewalks where residents request them? If not explain why. If yes, please provide specifics on how you'd accomplish building more sidewalks in our neighborhood.
Maple Leaf is located between two future light rail stations. Do you support changing our current single-family zoning to allow for larger buildings and higher density in the Maple Leaf neighborhood?
To submit your own questions, email Miller at david.miller@mapleleafcommunity.org.
King County Councilman Bob Ferguson also was in attendance at the meeting, fielding questions about taxes and Metro service, which recently changed when the 15th Avenue Bridge reopened and bus service that had temporarily moved to Roosevelt Way Northeast moved back to 15th Avenue Northeast, but with fewer stops farther apart.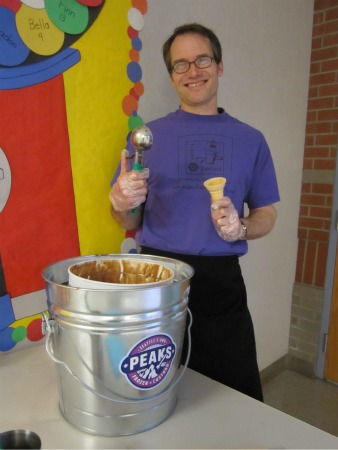 And lastly, Peaks Frozen Custard, 1026 N.E. 65th St., was handing out cones at the door as a pleasant reminder that they'll be doing the same thing again but on a much larger scale at annual Maple Leaf Ice Cream Summer Social, which is coming up exactly three months from last night with a date of Wednesday, July 27.
Are you ready for Maple Leaf's biggest event of the year?