Don't forget to vote at tonight's Maple Leaf General Community Meeting, from 7-9 p.m. at Olympic View Elementary, 504 N.E. 95th St.!
Please forgive us for missing the news that Donna Hartmann-Miller, who heads the volunteer Friends for a Greater Maple Leaf Park committee, also will be up for election for the Maple Leaf Community Council Executive Board, in addition to President Joshua Newman, Tyler Letey and Matt Stockbridge.
We may not have time to get in Hartmann-Miller's bio before the meeting starts, but we've written plenty about her work making sure the community's wishes are being  represented in decisions about the still-under-construction Maple Leaf Reservoir Park, as well as tidbits such as rescuing a "fugitive feline."
More of tonight's agenda is here, and we've also got a little more about board member Matt Stockbridge: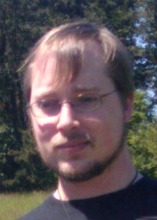 Full name:
Matthew Stockbridge
Current Occupation:
Software engineer
When did you move to Maple leaf and why? 
I moved to Maple Leaf with my wife, former board member Meg Stockbridge, about three years ago as a couple, but Meg's very first apartment living on her own, more than 10 years ago, was in Maple Leaf. Years later, when we were looking for a home to rent together, Maple Leaf seemed like the perfect choice. It was just a short year later that we were married and buying a home in Maple Leaf. Now that we're expecting our first child in August, we know we made the best decision possible – Maple Leaf is the perfect neighborhood for accessibility to the city, the university and to excellent opportunities for children.
What current Maple Leaf issue are you most excited about?
I think the issues that I'm most interested in would have to be
development in Maple Leaf and the reservoir project.
What is the one thing you hope to accomplish while on the board? 
I think that I'd like to do as much as possible to ensure that Maple Leaf
remains a unique and vibrant community that's oriented toward families,
and retains some of the characteristics unique to the area (such as being
composed predominately of single family homes).