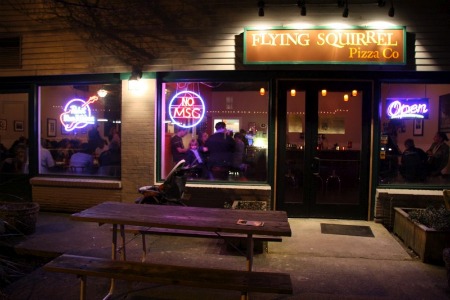 Flying Squirrel Pizza Co.'s original location is in Seward Park. Photo courtesy its website.
By Katie Melton
In a previous post, we dropped the news that the Flying Squirrel Pizza Co. will be arriving in Maple Leaf sometime soon. Bill Coury, the owner of the restaurant that is taking the place of A New York Pizza Place at 8310 Fifth Ave. N.E., says it may be a little later.
"This is the million-dollar question, isn't it? I am hoping that we are open at the beginning of July," Coury said.
Regardless of the vacant space, why open a location in Maple Leaf?
"We've had such success being the neighborhood restaurant here in Seward Park. Maple Leaf just reminded me a lot of our Seward Park location. Lots of families, and it's cozy. After a year, we will all know each other. It's just more fun that way. It seemed like the perfect spot," Coury said.
We will keep you posted on the status of the restaurant's opening. By the looks of it, Maple Leaf neighbors should expect to be seeing the Flying Squirrel Pizza Co. in their backyard by summer.
"It's a cool spot, don't you think? We're very excited," Coury said.
Katie Melton is the intern for Maple Leaf Life. She is a journalism student at the University of Washington.