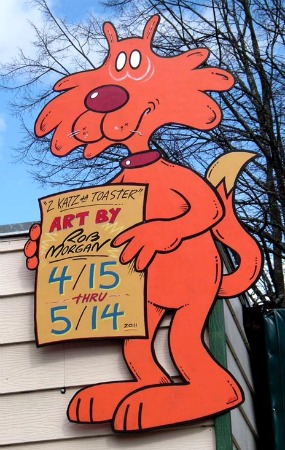 If you still haven't been to Hangfire Design and Frame, there's a perfect opportunity to check it out tonight.
The artistic framing store at 9211 Roosevelt Way N.E. is kicking off a monthlong art show featuring new works by Northwest artist/musician/entrepreneur Rob Morgan with a party that we'll just let Hangfire tell you about:
"OPENING RECEPTION / PARTAY: Friday, April 15th 2011 from 6 PM until… um, it's over. THIS is gonna be a HOOT, people."
The art show will be on display tonight through May 14 and is titled "Two Katz & A Toaster: The Art Show." More on the show: 
Featuring full color acrylic paintings in a variety of sizes of Morgan's semi-legendary cartoon characters Ivan, George & their ever present bun warmer (aka "Two Katz & A Toaster"), this show will surely appeal not only to longtime fans of the comic strip but to anybody who loves comic &/or p…op art in general. Known primarily as the frontman for such Seattle bands as The Squirrels & The Pudz, Morgan has been active in the art & graphics world for decades as well, and has been cranking out bizarre cartoons since childhood. "Two Katz And A Toaster" comics date back to 1974, with the strip reaching the height of it's popularity so far during the 1980s & '90s, due to it's inclusion in Morgan's own publication Poplust Magazine as well as KYYX's 'Wave' freebie, both of which were fairly well distributed. Many may find it surprising that this is actually the first time Morgan has ever done an art show based on the characters, let alone rendered them larger than life on canvas! Even more surprising is that this is actually Rob's first "official" solo art show at all. So you could say that this show has indeed been decades in the making. And boy, are you 2KAAT fans gonna dig it.