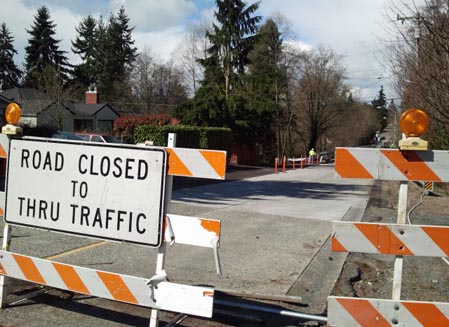 It didn't take quite a year.
The city transportation department emailed us today to say the 15th Avenue Northeast bridge, closed since May17 of last year, will reopen next week.
When we last reported on this, at the beginning of March, the bridge work was essentially done and crews were just waiting for three days with little rain (or snow) to finish a concrete overlay on the deck.
This afternoon Maribel Cruz from the Seattle Department of Transportation wrote us:
Several constituents from the community have contacted us and I'm sure many are anxious to know when it will reopen. Well without further ado, we plan to reopen the bridge on the evening of Friday, April 15th, 2011. The contractor plans to use most of the day, removing construction signs, cleaning the work area and then finally removing the barricades on both ends of the bridge. We expect traffic to be able to drive on the bridge after 5 p.m.