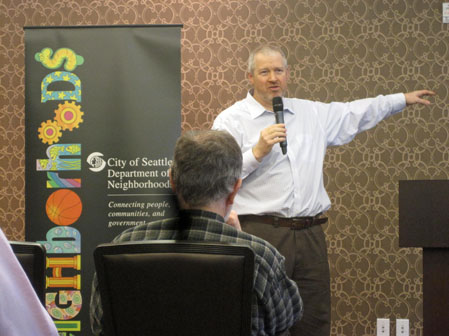 After his walking tour of Maple Leaf this morning, Seattle Mayor Mike McGinn had a new comment to make about the proposed deep-bore tunnel replacement for the Alaskan Way Viaduct.
Two speakers at a town hall Q&A following the tour said they oppose the tunnel on Highway 99,  and McGinn, long a tunnel foe who most recently said the viaduct should be closed next year for fear of a Japan-style earthquake and tsunami, said his office just received new data about the tunnel's effect on downtown Seattle.
"The deep-bore tunnel, with tolls, causes more congestion and delay on city streets than any other option," McGinn told the meeting at Aljoya Thornton Place, 450 N.E. 100th St.
About 108,000 cars and trucks use the viaduct daily, according to our news partners The Seattle Times. In December, McGinn said he'd authorized a study of how the tunnel and tolls would affect surface streets downtown.
We'll post more about the tour and other Q&A topics later this weekend.