Does life have you all tied up in knots? Cast-off those snarls. Join us for a chance to unwind. Come chat, knit, purl, spin and laugh with those who understand your desire to take a long piece of thread fiber and create a beloved "work of heart."
Sound like your cup of tea – or coffee? That's the beginning of the description for the Seattle NorthEnd Knitters' Meetup page, and right now they have two regular visits scheduled in Maple Leaf.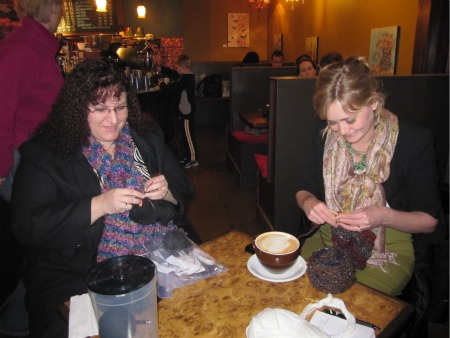 Daria and Megan represented the Seattle NorthEnd Knitters on Tuesday night at the Jewel Box Cafe.
Starting in January, the group started meeting at 7 p.m. Tuesdays at the Jewel Box Cafe, at 321 N.E. 103rd St. at Thornton Place. And although only three of us turned out for last night's meeting, frequent attendees Megan and Daria were raving about a 15-plus person turnout just a couple of weeks ago.
The group also meets at 3 p.m. every other Saturday at Cloud City Coffee, 8801 Roosevelt Way N.E., with the next meetup scheduled for March 5. Check out the meetup page to join the NorthEnd Knitters or to check out other North Seattle events.