By Katie Melton
Last summer, Maple Leaf artist Rachel Marcotte designed and helped coordinate the painting of a giant turtle in a Wallingford intersection, pictured above. Now she's started the process of organizing such a project for our own neighborhood.
But don't hold your breath that it's going to be a fast and easy process. Already her initial location, at the intersection of Northeast 102nd Street and 12th Avenue Northeast, has been turned down by the Seattle Department of Transportation because of its traffic circle, even though Marcotte included it as part of her design (see her sketch below).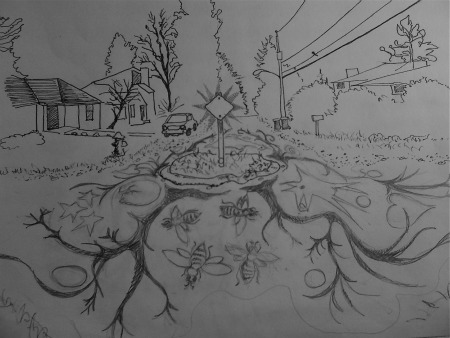 Now she hopes to move the project to the intersection of Northeast 96th Street and 12th Avenue Northeast, but because it doesn't have a roundabout and also is larger than her original location, she is back to the drawing board for a new design. In addition, she'll also need the approval of at least 60 percent of nearby neighbors, including the Maple Leaf Evangelical Church at 1059 Northeast 96th Street.
"What I'd love is if someone were excited enough about the idea of a spectacular neighborhood painting, and an inspiring community-building experience, to help me do the groundwork," Marcotte said. "So far I haven't found anyone."
Now back to negotiating with SDOT about the location, she will let us know the verdict so she can begin circulating petitions and holding meetings about the project. Completing a public art mural takes quite a bit of work and time, Marcotte says. But it's also a great way to bring neighbors together to create a piece of art to be proud of.
Katie Melton is the intern for Maple Leaf Life. She is a journalism student at the University of Washington.