One of our readers, Megan, e-mailed to take note of a $50,000 challenge from our garbage and recycling company, CleanScapes.
To help communities along the road to zero waste, CleanScapes is challenging residents and neighborhoods to reduce their waste with the 2nd Annual Neighborhood Waste Reduction Rewards competition. The reward? A $50,000 community project, built in your neighborhood and maintained by CleanScapes.
Now, as it happens, Maple Leaf is about to get a new park, and we're sure it could use a $50 grand project.
But Megan points to a story by our news partners The Seattle Times that as of the end of January Ravenna is leading the contest.
"No way are we more trashy than Ravenna," she writes.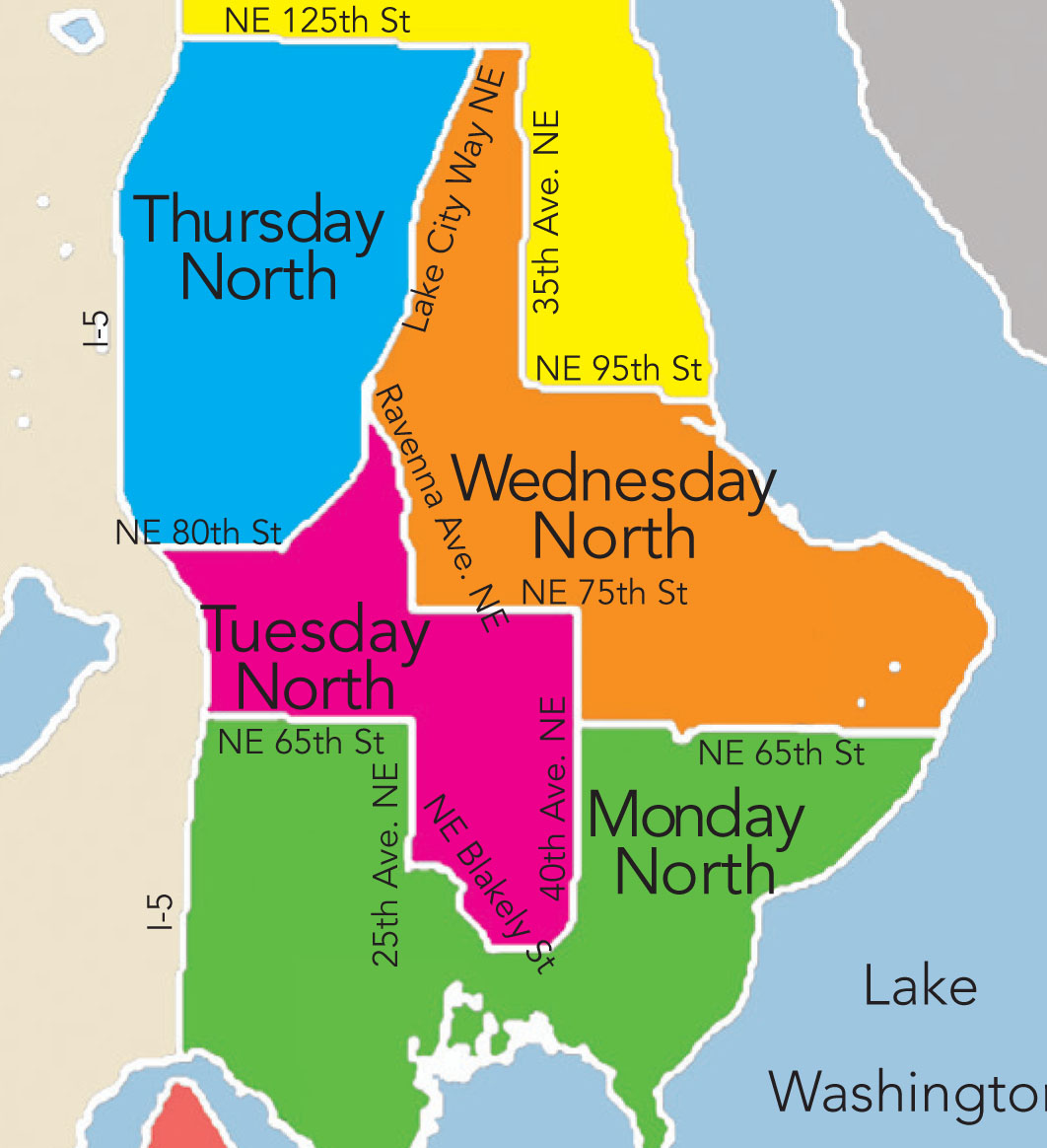 Ah, but how to tell where we end and other neighborhoods begin? It's a subject we've harped on before.
On this map, from CleanScapes, most of Maple Leaf is in the "Thursday North" collection area. But it looks like our contest turf includes a lot of … Pinehurst!
Ravenna is in the Tuesday North zone, which seems to us to include a lot of Roosevelt.
More seriously, the confusion over neighborhood boundaries can also cause confusing crime reporting. At last week's community council general meeting, Diane Horswill, a community crime coordinator, passed out a list of 19 burglaries in Maple Leaf in the last three months.
We noticed that Maple Leaf Life has reported on at least four additional burglaries during that time period. The reason for the discrepancy is that Horswill used a map from the Seattle City Clerk's office that draws Maple Leaf's southern  boundary at Northeast 85th Street. She writes:
I chose to use these maps because I am trying to avoid overlapping which can result in double reporting. This happened last Fall when the same burglary incidents were attributed to Maple Leaf, Ravenna and Roosevelt. This tends to result in a lot of unnecessary fear in the community.