This post thanks to Thea at Queen Anne View.
Seattle's 17th annual Neighbor Appreciation Day is Saturday, February 12 and the Seattle Department of Neighborhoods wants to hear what makes your neighbors so great. Post your good neighbor stories here and read what others are saying about what makes their neighborhood special.
Neighbor Appreciation Day is Seattle's annual day to reach out to neighbors, create new bonds, and express thanks to those who help make your neighborhood a great place to live. Hundreds of people across Seattle will come together on February 12 (and the week of) to celebrate.
The Department of Neighborhoods is gearing up for Neighbor Appreciation Day by offering a number of ways for community members to get involved, including sending a Neighbor Appreciation Day e-card to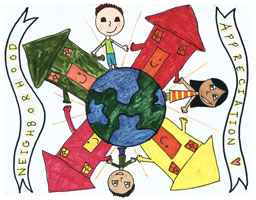 your neighbors. You'll have a choice of two cards designed by Seattle Public Schools students. This card was drawn by 4th grader Angel Corpuz from Dunlap Elementary.
Other ways to get involved: Community members are invited to host their own Neighbor Appreciation Day event in their neighborhoods. Read more about ideas for events, how to plan them, and where to post them, here. Want to share your pictures of NA Day events after the fact? Add them to the Neighbor Appreciation Day Flickr album.