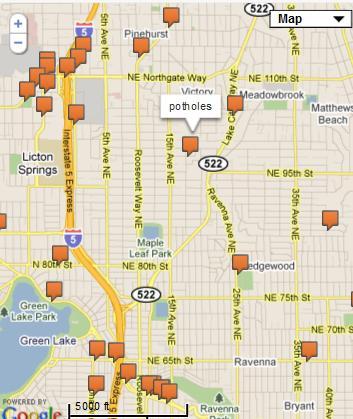 On the final day of 2010 we invited readers to complain about potholes – and to report them to the city to be filled.
Suddenly, our Maple Leaf watch area on SeeClickFix.com lit up. A number of the reports are outside the neighborhood proper, but we all drive these streets.
Seems our news partners The Seattle Times also ran a pothole story, on Sunday, and also invited readers to post on SeeClickFix.
The chronically bumpy streets of Seattle are crumbling so fast that the city is sending extra crews of "Pothole Rangers" to make repairs, starting Monday.
Citizens filed 1,200 requests and complaints in December.
So far over a hundred Times readers have posted new pothole problems.
Some sample comments from the Maple Leaf area:
Jean wrote, "potholes all along Meridian Avenue North from Northgate Way south to 92nd Street."
Eugene, and a lot of other folks, complained about First Avenue Northeast just south of Northeast Northgate Way.
"The major potholes on this street have been fixed going southbound. The northbound lanes have now developed potholes of their own."
Another reader wrote of the same area, "this pothole has been here for about a year now. They patch it from time to time and the patch erodes within days leaving a HUGE crater. Last week my wife hit it dead on and blew our tire."