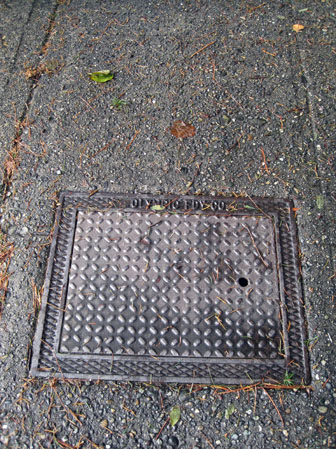 We don't know exactly why, but metal grates and grills on streets and sidewalks are extremely slippery right now. Do not walk on them!
It's true in Maple Leaf and – we just got back – also in Victoria, B.C.
In both places they've nearly sent us sprawling.
The suspicion is it's connected to last week's snow storm, when the city used a new (to us) deicing combination including rock salt on streets. We don't know if it also causes metal to become slippery, but something has.
It might also have contributed to this tragic story about a dog who was electrocuted on Thanksgiving Day while being walked in Queen Anne. Our partner site, Queen Anne View, says the dog touched a metal plate near a light pole that was apparently leaking electricity.
A link in the story to a pet Web site notes that "stray voltage" is a particular problem when salt is used on streets:
The chances of an individual suffering from injuries brought on by stray voltage is highest in winter when the snow combines with the salt used to melt it to form a salty solution. Salt water is a better conductor of electricity as compared to pure water and so this saltwater slush is especially dangerous