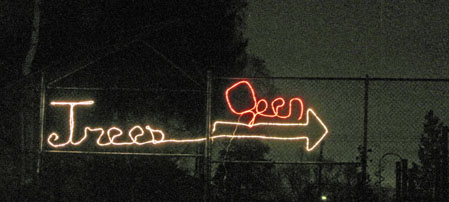 It's the Sunday after the day after the day after Thanksgiving, and we know what that means….time to get a tree!
Forget specials at the stores and head to one of these local lots, which started opening with the holidays.
Boy Scout Troop 151 has set up its usual lot at Safeway, 7300 Roosevelt Way N. E.
The Fairview Church and School, 844 N.E. 78th St., is selling trees in its parking lot (that's its sign, above, too).
Green Lake Elementary School's trees went on sale starting Friday at the nearby school, 2400 N. 65th St. (Northeast 65th Street and First Avenue Northeast, four blocks west of Interstate 5). It's the PTA's 25th annual sale!
We'll be updating this list as we spot more tree lots. Or suggest your favorite tree haunt!