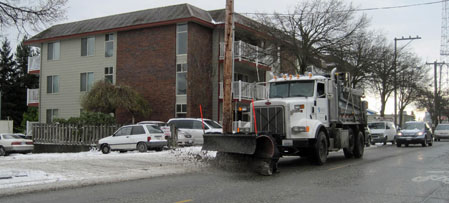 11:41 a.m., Roosevelt Way Northeast outside the Blue Saucer.
Vinnie's been found! Vinnie, the lost dog we posted about last night, is safe.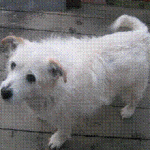 Dave writes: "Yes! Thank you very much for your assistance. Somebody saw your blog and phoned us. We will go pick him up later this morning. Thanks again."
Note: Thanks to whoever sheltered Vinnie.
The National Weather Service has some cheerful news:
THE COLDEST TEMPERATURES WILL OCCUR THIS MORNING WITH SOME LOCATIONS IN THE SINGLE DIGITS. THERE IS A CHANCE WITH THE SNOW COVER THAT THE COLDEST LOCATIONS IN WESTERN WASHINGTON COULD BE BELOW 0 THIS MORNING. SEATTLE-TACOMA AIRPORT HAS ALREADY SET A NEW RECORD LOW WITH 14 DEGREES. ICY ROADS WILL BE A PROBLEM THROUGH THANKSGIVING MORNING.
Note: It's a balmy 20.7 degrees here at Maple Leaf Life.
The University of Washington somewhat belatedly canceled classes today. Note: read the comments.
The city's Emergency Operations Center announced: "SDOT dispatched pedestrian response crews from both its Haller Lake and Charles Street bases of operations by 8:00 a.m., with help from its Urban Forestry unit, for a total of twelve crews dispatched citywide."
Note: Maple Leaf Life still doesn't know what a "pedestrian response crew" is.