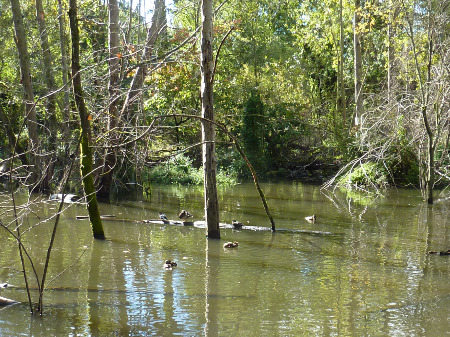 If you've been meaning to volunteer at one of the myriad work parties at Thornton Creek Park No. 6 but haven't yet made it, you've got another opportunity to give back that doesn't require getting your hands dirty.
The Thornton Creek Alliance is urging the community to show its support for the park and for Thornton Creek by sending comments in support of a project it's sponsoring that could provide $500,000 in funding, according to the Pinehurst Seattle blog.
The money would be used to establish a formal park entrance and to complete all the creek channel work in the park, reaching as far upstream as Thornton Place.
Ruth Williams with the Thornton Creek Alliance adds that the project, called Naturalizing Northgate, also will help establish a healthy habitat for fish and wildlife; create a quiet haven and educational opportunities for people; and help to control downstream flooding.
The grant would come from the 2008 Parks and Open Space Opportunity Fund, and the Thornton Creek project is one of only two projects in North Seattle to get to this final round, Pinehurst Seattle says.
You have until Nov. 17 to show your support for Naturalizing Northgate through testimonial e-mails to Susanne Rockwell at susanne.rockwell@seattle.gov. The tracking number of the project is 35D-2010.
Williams also is reminding the community on behalf of the Thornton Creek Alliance that comments must be sent in by Oct. 31 about the DPD tree ordinance proposal. She writes:
Please don't miss this deadline! Keeping Seattle's forest infrastructure in balance with urban density needs will be an important part of our legacy to future generations. The proposal in its current form removes all protections from trees and groves outside of construction.  Comments should be sent to the mayor, each city council member, and DPD's Brennon Staley (brennon.staley@seattle.gov).
By the way, there is another work party coming up next weekend if you're so inclined. From 10 a.m. to 1 p.m. Nov. 7, volunteers are asked help protect the trees at Thornton Creek Park No. 6 from hungry beavers this winter. The main task will be wrapping trees in chicken wire, but if you'd prefer to weed, that's always a welcome task.
Snacks, beverages, laminated gloves and tools will be provided, but volunteers are urged to dress for the weather and wear sturdy shoes. Meet on the south side of Northeast 105th Street, between Fifth Avenue Northeast and Eighth Avenue Northeast.
For more information about volunteering or about any of the issues affecting Thornton Place, contact Williams at ruthalice@comcast.net or 206-930-8965.