Are you wondering how the extension of Sound Transit's light rail from Northgate to Lynnwood might affect those of us in the Maple Leaf/Northgate neighborhood?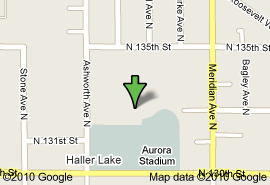 Make your voice heard on the issue tomorrow as Sound Transit gets started on some of the planning phases for the project with the first of three planning sessions in the affected area. Tomorrow's meeting will be from 6-8 p.m. at Ingraham High School, 1819 N. 135th St.
At the meeting, the public is invited to learn and comment about:
• Project purpose and schedule
• Areas that may be served by future stations
• Criteria for reviewing alternatives
Additional meetings, also from 6-8 p.m., will be Oct. 12 at the Lynnwood Convention Center, 3711 196th St. S.W. in Lynnwood; and Oct. 14 at the Shoreline Conference Center, 18560 First Ave. N.E. in Shoreline.
You can learn more about the project and take a survey at soundtransit.org/hctworkshops