It's every parent's wish to send their child off each morning to a school day of fun and friendship.
But since that's not always the case, Taproot Theatre's Road Company is helping combat bullying and other issues that can cause anxiety in children during its 2010-2011 season, including a stop at Maple Leaf's St. Catherine of Siena Parish School, 8524 Eighth Ave. N.E.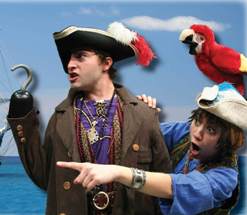 The private performance of "Treasure Ally," taking place Oct. 15 and featuring Solomon Davis and Adrienne Littleton (shown at right in a photo by Liz Ragland), is one of four plays the Road Company is performing this season to teach kids how to respond to — and even prevent — bullying and harassment. From a news release about the new season:
The Road Company's method is simple: Present a captivating story with compelling characters, and weave lessons on respect and bullying prevention into it. Then when it's over, the actors interact with the students, reinforcing the lessons.
It also explains that, according to the Stop Bullying Now! website from the federal Health Resources and Services Administration, 15 percent to 25 percent of students across the nation have reported being bullied, while 15 percent to 20 percent have reported bullying others.
And although Washington state is making its own efforts to fight bullying with a law that prohibits harassment, intimidation and bullying, in the 2008-2009 school year alone nearly 15,000 students were suspended and 442 were expelled statewide because of bullying, the release said.
What has your child's school done to prevent bullying? Would you like it to do more?