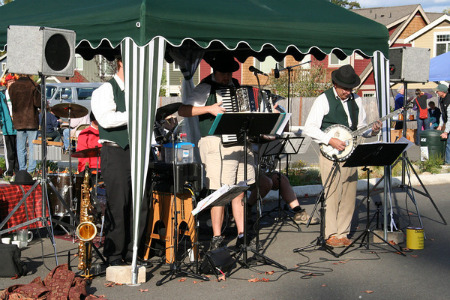 The Smilin' Scandinavians, who performed at last year's Meadowbrook Oktoberfest, also will perform Saturday. Photo from Christy Terpsma.
The 200th Oktoberfest celebration is well under way in Munich, Germany, but you don't have to cross the ocean to get a taste of the traditional festivities.
But you do have to cross Lake City Way. For the second year in a row, Maple Leaf Lutheran Church, 10005 32nd Ave. N.E., is bringing us the Meadowbrook Oktoberfest from noon to 5 p.m. Saturday, featuring  live music by the Smilin' Scandinavians (Seattle's No. 1 polka band), dancing demos from the Regenbogen Schuhplattlers, a raffle and silent auction and kids' activities, including cider press demonstrations.
Of course, there will be a beer garden serving Hale's Ales and hard cider from Rockridge Orchards and Cidery in Enumclaw, and local apple cider also will be available. Traditional German fare is on the menu, including hearty bratwurst meals and strudel, and kids' meals also will be available.
Don't know what to wear? The church website recommends you:
Dig out your dirndls, launder the lederhosen, and polish your polka shoes for the second annual Meadowbrook Oktoberfest!
Admission is free; you can buy your meal tickets at the door (cash or check only) or in advance at www.MeadowbrookOktoberfest.org.