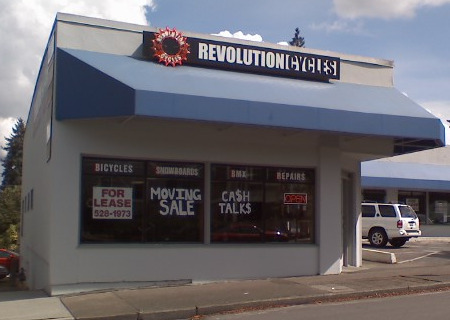 The store Revolution Cycles is closing its doors on Tuesday, but the business itself as well as the "personal attention to bikes" its patrons have come to expect aren't going anywhere.
"Having a store like this is really important to the neighborhood," said owner Trask Fredrickson, "but I just don't have deep enough pockets."
He explained that even though he's no longer able to keep the store open, Revolution Cycles will continue to service bicycles and cyclists throughout the Maple Leaf and greater North Seattle area with a "personal bike mechanic" service, which he compared to a personal trainer.
Now, instead of driving to the store at at 9634 Roosevelt Way N.E., Revolution Cycles will come to you, pick up your bike (or your skis and snowboards in the winter), then bring it back to you after it's been fixed or assessed.
Or, if your bike just needs a quick fix, Revolution Cycles also will have a mobile shop to work on your bike at your house.
"We still have access to the same stuff," he said. "We just won't have a brick-and-mortar facade."
Fredrickson, who lives in the neighborhood, said he's also hoping he can establish a partnership with a Maple Leaf business that lets him set up shop once a week in a parking lot to offer his mobile services, as well as a drop-off service for tune-ups and other more complex services. Just come back the next week, and he'll bring your bike back. And in the winter, he says he hopes to offer the same services for snowboards and skis, and possibly even rent out snowboards.
"The standard model of a business isn't necessarily the best anymore," Fredrickson said.
In the meantime, you've got until Tuesday to check out what remains at the store, which still has a couple of dozen bikes and plenty of accessories. And just remember, if you want to make an offer, you'd best heed the sign on the window above that says "Cash talks."
Even though the storefront is going away, the website and phone number are staying the same. Check out RevolutionSeattle.com or give Fredrickson a call at 206-525-3068.