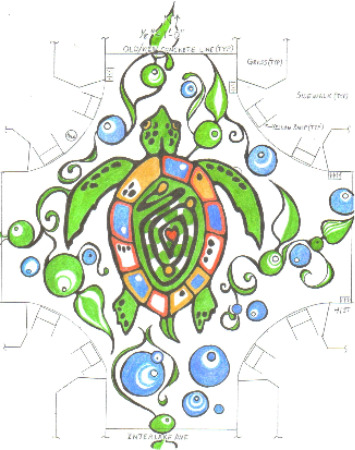 This turtle designed by Maple Leaf resident Rachel Marcotte is about to make its much-bigger-than-life debut as it slowly appears at the Wallingford intersection of Interlake Avenue North and North 41st Street over the weekend.
The artist and decades-long resident of Maple Leaf has been working with neighbors surrounding the intersection to create both the city's and Wallingford's second painted intersection, closing it to traffic from Saturday morning through Sunday evening.
Our news partners MyWallingford wrote about the other painted intersection, a ladybug at North 50th Street and Burke Avenue North dubbed the "Wallybug," when it got its annual coat of paint in July, which brought to our attention Marcotte's participation in the new project.
Although she designed the turtle and will be drawing its outline on the street with the help of a few artist frients, at least 50 volunteers of all ages will be helping with the painting, filling in the design following a "paint-by-numbers" idea.
Stop by and check it out if you get a chance, and think about where you'd like to see a painted intersection in Maple Leaf.