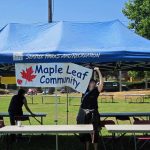 UPDATE, 1: 30 p.m. Setup at the playground has begun! And, it's not 103 degrees, like it was last year.

Photo courtesy Dane Doerflinger Photography
The event we've been waiting for all year is here.
Tonight, from 7-11, is your chance to get to know your neighbors as well as many of the issues that involve your community at the annual Maple Leaf Summer Social, which takes place at  Maple Leaf Playground, 1020 N.E. 82nd St.
During the first half of the evening, there will be ice cream bars sponsored by Maple Leaf Ace Hardware, music by marimba band Tumbuka sponsored by Maple Leaf Life (that's us), face painting sponsored by the Maple Leaf Community Council, a clown/balloon artist sponsored by neighborhood resident Dawn Porter, and balloons by residents Cathy and Richard Boyce.
And if all those festivities aren't enough for you, Sidewalk Cinema will show the 2006 romantic comedy "Outsourced" starting around 9:30 p.m., including free popcorn and prizes.
As many as 40 tables are expected to be at the event, but please find time to stop by the Maple Leaf Life booth and introduce yourselves. Hope to see you tonight!