Although cyclists appear to be in favor of a city plan to add marked bike lanes along Maple Leaf's hilly portion of Roosevelt Way Northeast, many of the residents who live along or near the section that could lose 10 blocks of parking are not as supportive of the project.
At an open house last night at Fairview Christian School, 844 N.E. 78th St., the Seattle Department of Transportation laid the plan out and answered questions from curious as well as furious neighbors. (View a pdf of the plan here.)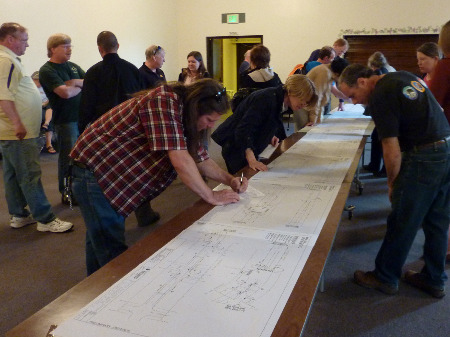 The plan would add a bike lane  in the uphill sections and a shared bike-car lane (sharrows) in the downhill sections of Roosevelt between Northeast 75th Street and Northeast 105th Street. To make space for the bike lane on the narrower section between Northeast 75th Street and Northeast 85th Street, the plan also calls for eliminating parking on the west side of Roosevelt along that stretch.
And although parts of that section already prohibit parking on the west side during morning commute hours, simply adding that time limit on parking to the entire 10-block stretch still wouldn't allow enough room to safely add the bike lane and the sharrows, SDOT workers explained. Zoned parking? Also not an option at this time, although Associate Transportation Planner Brian Dougherty said that is something the department would be willing to consider in the future.
Many of those who spoke up said they don't even live on Roosevelt, but still live close enough to feel the effects of people parking on their block to shop, dine or go to Maple Leaf Playground, and some are even suspected of commuting via bus from Roosevelt and using neighborhood streets as their own park and ride. 
Residents were quick to remind SDOT workers that parking could be even more limited once the Maple Leaf Reservoir Park is completed in 2012, which doesn't include any plans for additional parking.
But postponing the project until the park is finished, or even until the buses that are temporarily traveling down Roosevelt return to their former routes on 15th Avenue Northeast next spring, isn't part of the current timeline.
The goal is for the department to adopt a final plan by the end of August, with implementation by September or October.
The project is part of the city's Bicycle Master Plan, and is part of the voter-approved Bridging the Gap levy. But one cyclist pointed out that this bike route, which peaks at the third-highest hill in Seattle, isn't likely to get the bike traffic the city expects because it's so steep.
The dedicated bike lane would span for northbound cyclists from 75th Street to Northeast 89th Street, with sharrows in the southbound direction. Meanwhile, cyclists traveling southbound from Northeast 105th Street to Northeast 92nd Street would have the benefit of a bike lane for that uphill portion, while those traveling northbound would have sharrows.
Where the slope evens out a bit from 89th to 92nd streets, cars and bikes would share the road on both sides.
The plan includes other measures to encourage people to get out of their cars, including adding a new marked crosswalk at Northeast 90th Street, and SDOT also is hoping residents will offer other suggestions for potential crosswalks, Dougherty said.
If you didn't make it to the meeting but still would like to make a comment about the proposal, call 206-684-7583 or e-mail walkandbike@seattle.gov, preferably within the next two weeks.
And please share your comments about the plan with us, as well.