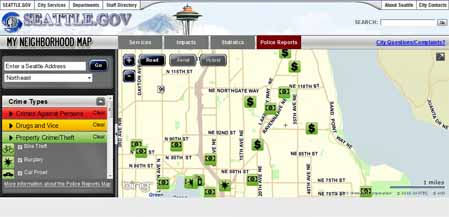 It can be a bit balky, but the city and the Seattle Police Department have created an interactive map that displays crimes from homicide to  purse-snatching and graffiti.
The city uses color-coded icons to represent the different types of crime, and says they should show up on the map within 12 hours of being reported to police. A pop-up dialogue box gives a brief summery of the crime and a police report number that can be used on the crime website officers unveiled last month.
The new map site appears to run somewhat better on Internet Explorer than on Mozilla Firefox, although it went down for scheduled maintenance as we were trying it out.
Maple Leaf Life is interested in most crimes, including car prowls and vandalism, that occur here. We've heard reports of break-ins at the Northgate Transit Center, and at Northwest Hospital. If you know of a crime in our neighborhood, please tell us at tips@mapleleaflife.com.