Maple Leaf restaurants may not be participating in Tuesday's inaugural Spoke & Food event, but the founders, Garett Slettebak and Heather Berger, just happen to be Maple Leaf residents.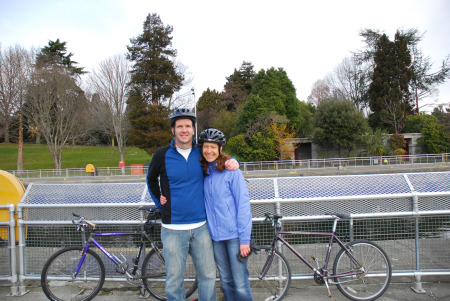 Photo courtesy Garett Slettebak and Heather Berger
The couple moved here in March, and since then have been vigorously planning not only the "evening of dining & bikes" that will benefit the nonprofit Lettuce Link, but also their nuptials just four days later.
How have they found time to plan both at the same time? Slettebak tells me via e-mail:
"We don't know. We didn't originally plan for the Spoke & Food event to be the same week as our wedding, but that said, we didn't want to wait. We thought about postponing the event a year but instead concluded that if we would commit to both, we'll find a way to get them both done. It has been harder than what we both expected it to be, but both events are so important to us that we're having a fun time preparing for them. Our friends and family have been amazing in the support they have given."
Spoke & Food encourages people to bicycle to one of 14 Seattle restaurants, each which will donate 15% to 20% of the proceeds from participating diners to Lettuce Link, a program of Solid Ground. Participating restaurants include:
The Scarlett Tree (Ravenna)
Fiddler's Inn (Wedgwood)
Cantinetta Restaurant (Wallingford)
Blue Star Cafe & Pub (Wallingford)
Barking Dog Alehouse (Greenwood/Phinney)
Naked City Brewery & Taphouse (Greenwood/Phinney)
Dad Watsons (Fremont)
Montlake Ale House (Montlake)
Louisa's Cafe & Bakery (Eastlake)
The Stepping Stone (Ballard)
Snoose Junction Pizzeria (Ballard)
The Hi-Life (Ballard)
Mulleadys Irish Pub (Magnolia)
Porterhouse (West Seattle)
And by the time next year's event rolls around, Slettebak is optimistic that Spoke & Food will add some Maple Leaf restuarants to the list, especially since he and Berger still are getting to know the neighborhood.
"Now that we live in Maple Leaf, we have so many new restaurants to try out that are within walking distance that we haven't used our bikes that much," he says, adding that's one of the reasons they planned the event. "Both of us grew up biking but don't bicycle as much as we should now that we're adults. Incorporating biking into our summer dinner schedule just seemed like a great way to force ourselves to use our bikes more."
And it's working for them. They're planning on spending their Tuesday evening biking to and dining in Ballard. Where will you go on Tuesday to support the Spoke & Food event?