It pays to read Maple Leaf Life.
Next weekend, Seattle Musical Theatre is presenting the Northwest premiere of "110 in the Shade," and it's inviting you, our readers, to take advantage of a $10 discount off the regular ticket price of $25-$35.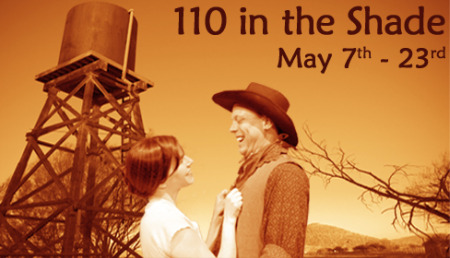 The musical, by Tom Jones and Harvey Schmidt, is based on the 1954 play  "The Rainmaker" that was made into a film starring Katherine Hepburn and Burt Lancaster two years later. From the release:
The scene is July, 1936 in the drought-ridden community of Three Point, Texas. Languishing in the unrelenting heat, Lizzie Curry – too smart and too witty for her own good – ponders her future as an old maid. Her father and brothers have tried to scare up some husband material, but the only likely prospect isn't cooperating. Enter handsome Bill Starbuck, a charming con man who claims he can bring much needed relief – rain – within 24 hours. His arrival sets off a series of sizzling events.
"110 in the Shade" runs from May 7-23, with curtain at 8 p.m. Fridays and Saturdays, 2 p.m. Sundays, and with a special 7:30 p.m. performance Thursday, May 20.
To reserve a seat, call the box office at 363-2809 and mention the code BLOG to receive $10 off any performance, with a limit of four tickets at this price.
The Seattle Musical Theatre is located in Building No. 47 in Magnuson Park, 7400 Sand Point Way N.E.