Sometime last night, burglars broke into the Maple Leaf Grill and made off with the Roosevelt restaurant's back stock of booze, and all of the cash and cola they could find.
"What was missing was cash, liquor and they took soda pop so that they had mixers for their booze," said Assistant Manager Gwen Tollefson.
She said it appeared the burglars first tried to auger out the deadbolt on the patio door, before resorting to breaking the glass to flip the deadbolt from the inside.
So how'd the alarm system not go off? The suspects also cut the phone lines and other wiring, then ripped the alarm panel off as soon as they entered the building.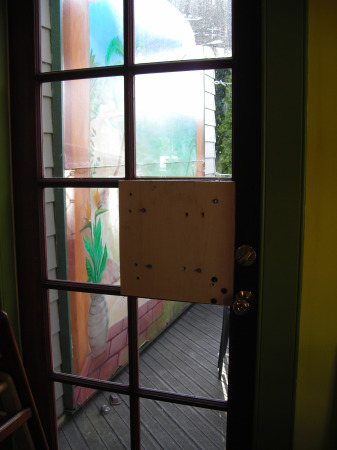 "An alarm does not completely protect you,"  Tollefson said, suggesting that other business owners consider ways to protect any sort of communication wiring that's needed to keep their alarm functioning.
Just tack that on to the estimated $2,000 in stolen goods and damages from the burglary, which includes the need for a new door Tollefson said they expect they'll have by tomorrow.
But new door or not, the Maple Leaf Grill will open tonight for dinner after closing for lunch to do some needed cleanup. It'll open at 5 p.m. if you'd like to stop by and give them some community support.