Maple Leaf is getting its own little piece of Carnival at Northwest Puppet Center starting Thursday, when the Carter Family Marionettes brings "Pulcinella Vendicato" to the stage for its North American debut.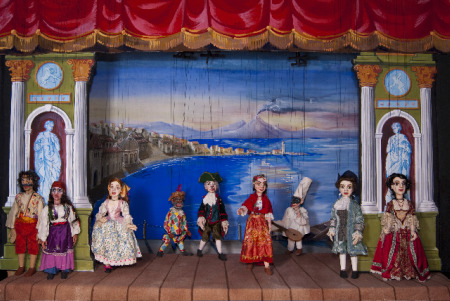 All photos from Summer Moon Photography
The opera buffa was created by 18-century Naples composer Giovanni Paisiello to delight the revelers at the worldwide celebration. Here's the synopsis from Northwest Puppet Center:
When Pulcinella's girlfriend is swept away by the charms of a visiting nobleman, he stumbles upon a magic genie in a bottle and begins to plot revenge. Devils and imps swoop through the air! Chaos erupts at the fish market! But nothing will prepare you for a steamy scene atop Mount Vesuvius!
The performance was created in collaboration with a live ensemble of baroque musicians and professional opera singers led by music director Margriet Tindemans.
Performances are at 8 p.m. Friday, April 23 and 30; at 2 and 8 p.m. Saturday, April 24 and May 1; and at 2 p.m. Sunday, April 25 and May 2. Attendees at this Friday's opening performance are invited to an opening night reception after the show.
Tickets cost $28 for adults, and $25 for seniors and children, although the center notes that the show is not intended for young children.
There also is a preview performance at 8 p.m. Thursday, April 22, at the reduced price of $10 per person.