It's true: A family of beavers have dammed a piece of Thornton Creek and created a beaver pond right here in Maple Leaf.
We heard about it from Rob Stevens:
Out walking the dog in north Maple Leaf and I stumbled upon a beaver dam in Maple Leaf!  Who would have thunk it!? The beaver dam is just 2 blocks east of Northgate Mall at 106th St and 8th Ave.
We went to check. Sure enough, we found a downy woodpecker whacking above what used to be a tree-lined wetland with a small creek. It's much wetter now – in fact it's a pond with a beaver lodge (above) and a dam that's raised the level of the pond at least 2 feet above the creek.
The city of Seattle has found it, too, and put up anti-beaver fencing around some of the trees and a sign asking folks to keep out.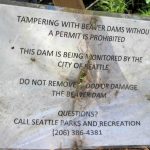 When we called the number on the sign, Cheryl Eastberg with Seattle parks said she was relieved to hear all was well with the dam. She added that neighbors have reported the beavers have recently had kits – baby beavers.
Until now, the closest beavers to Maple Leaf were thought to be at Licton Springs Park, north of North Seattle Community College. Residents there have complained that beavers damaged trees in the park. Seattle's best-known beavers are probably the ones at Meadowbrook Pond in the Wedgwood neighborhood. Here's a story (with photos) from our news partners at The Seattle Times. Thornton Creek actually connects Meadowbrook and Maple Leaf.
Beavers – very large rodents with flat tails – are primarily nocturnal, making it hard to see them during the day, even though they can weigh over a hundred pounds. They chew trees, dam flowing water and live in lodges with underwater entrances. Bob Spencer from Seattle Public Utilities has a piece on living with them here. He points out that you can't remove a beaver dam without a hydraulic permit from the state.
Any other unusual wildlife sightings in the neighborhood?
Oh, Rob – who with his dog found the beavers – believes that chunk of Thornton Creek is actually named Mapleleaf Creek, and sent along a couple of references. We haven't quite puzzled them out yet. But wouldn't it be grand to have a Mapleleaf Creek?