The "F-Bomb bandit" believed to have robbed five banks or credit unions in seven weeks was urged to turn herself  in by her father after he saw a TV photo of the robber, court documents state.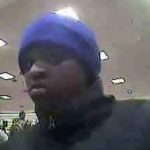 But the 16-year-old girl "just laughed at him," according to documents charging her with four of the robberies, including the one last month at a credit union inside the QFC at Roosevelt Way Northeast and Northeast Northgate Way.
The girl, who was charged along with her boyfriend, another girl and a 40-year-old felon, told police she received $25 cash and a new coat for her role in the robberies.
Shennell J. Kennebrew, 16, has been charged with robberies here and in Renton, Kent and West Seattle, according to the court papers.
Her 17-year-old boyfriend, Dasha Malcolm Taylor, also was charged, as was another girl, Jade Natasha Beers, also 17. The documents state that Keith Lamont Sims, a 40-year-old man with a state and federal criminal record, was also charged and may face a third-strike life in prison if convicted of the new charges.
After bank camera images of the robber were published and aired on television, detectives received two tips on March 2 that led them to Kennebrew's home, where she was arrested, according to the documents. When her father arrived at the police station, he told officers that "he knew this day would come."
Kennebrew told detectives that her boyfriend and Sims, who is the boyfriend's cousin, talked her into the robberies, the documents allege. Beers, identified as the boyfriend's other girlfriend, often drove them in Sims'  black Mercedes. He told the teens that because they were juveniles, they could not get into trouble for the crimes, the documents state, but because robbery is a serious violent crime, all four have been charged as adults.
Kennebew was the person who actually demanded the money in all the cases, the documents state. The notes she handed tellers often used profanity. After robbing the Alaska USA Federal Credit Union inside the QFC here, she apparently dropped the bag of cash in the parking lot outside, where police found it, according to the documents.
The four will appear at the Regional Justice Center in Kent on April 8.