While we're on the subject of empty storefronts, the green building adjacent from the Safeway on Northwest 75th Street isn't really empty.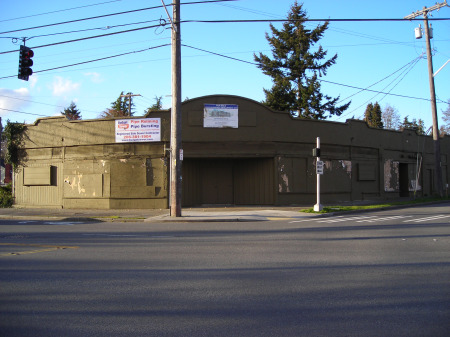 Jay Young, the co-owner of Real Property Associates, which owns the property, says it's mostly being used as warehouse space now, but that the company still has high hopes for the 7500 Roosevelt Way N.E. location.
"We're just trying to figure out what the next buyer or the next use is going to be," Young says.
The space is permitted for four-story mixed use, which Real Property acquired when the market was booming and it hoped to occupy the space. But then the market turned, and those plans got put on hold, at least for now.
"It doesn't mean we're not going to do it," Young said, who added that the building is available for sale or lease. "It just means we're not going to do it at this time."
And for those of you who noticed the new sign that looks like an ad next to the contact information for Real Property, it is not a sign of things to come.
"It will not be a giant billboard," Young says of the building.
How would you like to see the space at 75th and Roosevelt used? What kind of a business or other venture do you think Maple Leaf needs that would be a good fit for that space?