Update 5 p.m.Rainfall during daylight hours: .70 inches. Top wind: 43 mph at 1:32 p.m.
Update 12:08 p.m. Thunderstorm, No power 8th Avenue Northeast to Lake Washington between Northeast 77th and Northeast 38th streets.
Update 11:55 a.m. Rain falling in sheets. More than 6,000 without power.
Update 11:30 a.m. This just in from Seattle City Light:
Gusty conditions continue and so does the risk of more outages. Getting reports from Ravenna right now. 5400 customers, report of wires down. Please call 684-3000 or 684-7400.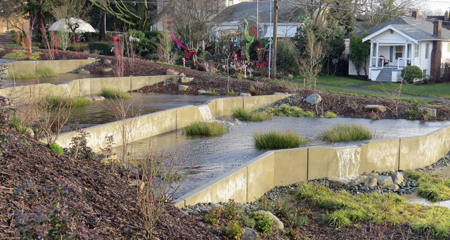 Rain overnight – .71 inches here at Maple Leaf Life South in the last 24 hours – means six of the nine settling ponds on the east side of Reservoir Park are full or filling.
And spilling over into miniature waterfalls.
Which should continue through the day. The forecast, as of 10 a.m., is for rain and possibly a thunderstorm, with wind gusts to 39 mph.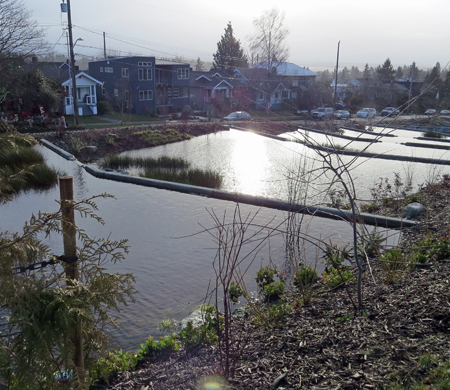 In the mountains – a different story. A winter storm watch from 2 p.m. today until noon Sunday. From Cliff Mass:
The weather map at 1 p.m. Saturday shows the story: LOTS of isobars over the region. Expect blizzard conditions in the passes. If you (travel) into the mountains that day, prepare for difficult conditions (chains, food, blankets). I would expect some avalanche control closures as well.